On Suffering: Remember To Put Your Mask On First
What commercial flight can teach us about our tunnel vision during suffering.
I was re-reading Christian Wiman's My Bright Abyss recently. Check out the book here.
Here's where it has my head:
"If you're traveling with a child or someone who needs assistance, remember to put your mask on first before you assist them." They say that on an airplane any time you fly. It's from the manual of what you're supposed to do when it really hits the fan. They run you through the list of everything you hope never happens: if this perfectly dry transportation vessel that was fully designed to operate in the total opposite elemental state of liquid somehow manages to plunge directly into a liquid you never even knew you'd be flying over, here's how to turn your incredibly uncomfortable and miserly seat cushion into the small yet suddenly generous square of faux-leather that will ultimately grant you a second chance at life. Also, if oxygen, the very element you take for granted every second of every day somehow ceases to exist up here while you're all alone and 100% reliant on physics that you cannot even begin to understand— this mask will magically appear from the heavens. Take it. Put it on. And If you're traveling with a child or someone who needs assistance, remember to put your mask on first, before assisting them. The list is only about three minutes long, but just like an unexpected phone call, it only needs three minutes to cause a severe existential flood within. Maybe those few items are truly the only things I need to know when and if an unfortunate and cosmic me-sized turd hits one of the engine turbine fans up here 30,000 feet above real life. Or maybe those are actually the few things we can still control, when all else is a ton of once beautiful achievement falling too fast for the charging dirt below. In a sense, the manual is all about clearing the air on a reality that really stings: should these certain and horrific things occur, you will mostly be on your own. Be you a baby or otherwise infirm normal big person. Everyone is going to put their own mask on first—the FAA is just clearing the air on the morally ambiguous ethics of survival. 
From February of 2016 to spring of 2019, I'd been in my own fight for survival of sorts. We moved to a new city, away from family and a well-developed support system. A month after I'd unloaded the last box from the U-Haul, I was diagnosed with thyroid cancer that had spread aggressively throughout the right side of my throat and neck. The following three years was a blur of wound care, both from the surgery and the ones which my wife and I would inflict on one another grappling with our loneliness and shared trauma, recovery from an intensive six hour surgery, effects of I-131 radiation, all-time mood and energy lows from trying to regulate my Synthroid doses, and a rapid fire job in digital marketing — one in which I ascended rather quickly to pivotal roles as the company grew like wildfire. All this was water on my head and my head was bobbing up and down in a sea of dark waves.   
Nobody clears the air in normal life that survival will be a lonely, cutthroat affair.
Nobody clears the air in normal life that survival will be a lonely, cutthroat affair. There's no manual for it hitting the fan when it inevitably does with our bodies, careers, or relationships. And all the cliches are true. The walls close in. The lights turn out and you become disoriented to anything other than trying to not fall because you know if you fall, before you can exit the room, you may never get back up. This room of despair is usually filled with the whispers and echoes of all your fears regarding the circumstances that have you there. Even though you have many people who love you, they're not in the room with you. They can't be. I didn't realize this for the longest time, so I felt abandoned. Left to deal with things alone. But that's only partly true.
You Go Alone, Mostly
I know it seems ungrateful to sit here and tell you I made it through life's biggest challenge alone, but that's not exactly what I'm saying. It's complicated. There is an inner burden and anguish that no one can carry but you and you alone — and people will try. The people who love you will ask you over and over again what they can do for you, and you won't know what to say. It's difficult to know where to start when everything seems wrong. There's no chart telling you if the light is a slow, flashing red, you should hold the reset button down for seven seconds, thus resetting the thing and allowing you on your merry way. The best advice I can give for adversity, even after facing it, is even more ambiguous than that: you need to grab hold of your life and squeeze it so hard you're afraid of breaking it and trudge forward dragging every part of yourself along. Yes, it will be completely dark. You won't have the slightest idea of what will jump out next. Yes, it will be a cold, cold onward march, but keep dragging on. Warmth will come and go like sunshine in the early spring —and, by God, you better be thankful for it, but don't hold your breath waiting for the next beam to hit. Yes, you're going to feel like it's over. You're going to feel like dropping your ass in the mud and laying there to cry, telling yourself when the sun peaks through again you'll have all you need to get back up and go some more. This is a lie that uses up time that you don't have. You don't have time to sit in the mud and feel its cool wetness displace itself around your weary limbs, cradling you as you wait for this to blow over. You have responsibilities. 
What's unfortunate and ironic is that these responsibilities are really just the maintenance costs of all your blessings in this life. Anyone who's suffered greatly will tell you this, that the things we love are heavy weights when we're barely making it. Of course it's shame inducing to say this- but you hear people say things like: I've lost jobs, friends, homes, and opportunities through this struggle. Somehow the knowledge that life isn't a list of obtainables doesn't make these losses or disappointments any easier. These things require an immense level of commitment and a shared responsibility to maintain. And the problem is that dragging your wounded ass through the mud and fumbling through the dark room of despair is going takes every ounce of who you are. You'll have no more easy capacity for cherishing the things you desperately need. Don't be surprised that even your strongest supporters won't understand the journey you're on. My experience has been that people will check in once or twice early on, while the news still smarts, and then they'll file it away somewhere, maybe expecting you to reciprocate or engage with initiative, but depending on the journey, you won't have it in you, you'll be caked in layered mud dragging dead weight around the perimeters of a pitch black room. Support wanes, but the trauma sticks, and its claws tear deeper for a time. A few people will walk alongside you for longer than you expected, but most won't. Now, I understand what makes it nearly impossible.    
I think suffering and trauma can be particularly difficult for a marriage to overcome. Before I was married, I mistakenly assumed that it would be easier to have "someone to lean on" in trying times. But the closer you are to someone, the more forsaken you will feel by them. I believe the story of the cross of Christ illuminates this reality when Jesus cries out asking why God had forsaken him. I think that was his humanity showing; he experienced the despair of mortality and the finite mind's perspective on dying alone in a visceral moment. Wiman talks about this, too. When I suffered trauma as an unmarried man; I could howl, moan, curse, and pump my fists. I could hole up in my room, eat all my meals there, only exiting for showering and work, until I had processed my anger into something like gratitude and my pain into the wobbly legs of new strength. But I was twenty years old then. My job was rote and low risk, my relationships we're the kind you tell yourself will never end but it's only because they blossomed with you in your formative years, and I lived cheap with roommates in rentals. In a sense, nobody needed me. If they did they didn't mention it — and I guess that's what a lost friendship looks like: two people both waiting to be needed by the other. But the older you get, the more responsibility you have. Your wife needs you to be present and your job needs you to perform. And you'll add that weight to your back even though it makes your nose and mouth inch closer to the suffocating mud that rises between your fingers swallowing your hands anew with each crawling step. Not only is the burden greater, and the blessings encumbering, but you also have to be sensitive about how you howl, moan, curse, and shake your fists. Curse words heard from outside of the room sound much more vile than they do inside. These are times when dropping a few f-bombs has the same satisfaction as scratching a mosquito bite. It's therapy. But not to the bystanders. To your supporters you're defiling yourself somehow. People have a lot of opinions about how you should manage your desperation—about what dignified suffering should look like. There's no morally ambiguous territory to someone who is standing in the brightly lit hallway outside your room. They just want to yell louder and tell you to follow their voice. To them it's simple. 
When you're going through something, you almost have to hide a lot of your true feelings. You'll need to stuff those into a sack of some sort and pitch them over your shoulder too. Yes it would be better to relieve yourself of them, just yell them out to be buried and lost in the muck. But it might hurt people who're standing around the hallways of your life. You want to be careful of their feelings. After all you'd hate for your ferocious, bloody fight to leach over into the hallway carpeting - or worse, to knock a motivational image, one with mountains that says "Believe & Succeed", off the wall as some fortunate bastard who doesn't understand real struggle walks by outside the thrash-beaten room you're clawing your way out of. I remember listening to my wife talk about how my despondency created a terrible loneliness in her during our darkest moments after diagnosis. I responded by letting her know how much additional weight a sentiment like that added to the burden and added that I wanted to steer my car into a concrete pillar most days so I was unsure how I would meet any additional needs at the moment. That didn't go over well. We were repellent to one another for a good 6-8 months. Neither of us wanting to deal with any disruption to our ideal life. I felt like I was going insane. I needed people in my life to give me a break. My surgical scars had healed, so to them I was well through recovery. People expect more from you as soon as your neck stops oozing. But the psychological, emotional, and physiological toll of such an ordeal can take years to recover from. Especially if you just moved to a new city. Especially if your thyroid is removed and your levels are out of whack— it can take around three years. That's three years of sweating, headaches, nervousness, irritability, insomnia, hair loss, weigh gain, and lethargy. Those don't sound too severe except when they're all at once, and all of the sudden. So I did what any self-respecting and desperate man does, I buried myself in my job because it was the only place I didn't feel broken or inferior. I faked it for 8-10 hours a day. For a good six months, I'd come home and fall asleep on the couch before 7pm further disconnecting from my life at home. My sick life. During that time, I put my career on like a fresh-pressed suit just back from the cleaners. I was exceedingly proud of it. I let it define me. I pressed in and I obviously burned out. This is how it happens— how you could lose it all. At the same time my body failed me, my marriage was beginning to do the same, and my career seemed to be following suit.
It all adds up, and real suffering costs more than you thought you had. This is why well-meaning phrases like: "you're going to beat this", or "you gotta fight this", or "fight cancer" are so tone deaf. Because, yeah, no shit, everyone wants to come out ok on the other side, but nobody knows what it's going to cost them. Would you choose to escape with your health even if you lose everything else in the process? Your home, your marriage, your career, your family, or your relationships? Everything is in the balance and when you're in it you don't even know it. You're too fixated on the dark mud that's sucking your hand in. You're too busy grasping at the walls for the light switch or door knob you hope will lead to the exit. Your legs are too wobbly and lungs too gassed to care about who will be there to greet you when you're finally free of it. Don't be surprised if the welcoming crew is much smaller than you expected. When people told me they lost friends from going through stuff — I didn't quite understand. So you're saying that in your moment of need, people who'd been around you when things were fine, just failed to be there anymore? After being through a period of genuine suffering myself, I can see the truth in it. But I can also offer some perspective to you if you're in the room of despair right now.
I was sweating, chest-gurgling and my head was held immobile from a dull, intense pain that shot through my upper body anytime I moved wrong.
I was guilty of not being there when one of my best friends died of a brain tumor. It was incredibly sudden. This person, Valerie, had been a true and genuine friend for nearly 20 years. Her brother, Travis, remains one of my best friends to this day. I remember the first time we all hung out. I remember listening to Napster mix tapes with college rock, talking random garbage on the "toolbags" at our school, and admitting we didn't really care as much about being varsity athletes in the way all our classmates did. Over the years our relationship grew, we got stuck in mud one New Year's Eve way past midnight and a guy on graveyard shift at the tortilla factory had to come push us out. We occasionally called one another to talk about art and inspiration. Then one day she called me and said she had passed out suddenly and that she was getting tests run. They found a mass and removed it. I remember seeing her a month or so later with her head shaved in good spirits but exhausted. She'd moved back home, and I wanted to be of some support to her family during this time. After all, when my mom had died suddenly when I was 21, she and her mom did a lot for our family—even remodeled one of our bathrooms. However, this came at a complicated time when we were in the process of moving to a new city. We sold our house and were spending every free moment looking for a new home and hauling our possessions to storage 150 miles away. The last time I saw her was that time in January or February when she seemed so hopeful and tired, but still a semblance of herself. She died about a month later and the day of her funeral I laid on the couch at my mother-in-laws with a day-old excisional biopsy wound wrapped in gauze that needed changing twice a day. My throat was burning and horse from tubes that had been there, and my lungs were full of some kind of fluid from anesthesia. I was sweating, chest-gurgling and my head was held immobile from a dull, intense pain that shot through my upper body anytime I moved wrong. I never saw Travis, his mom, or any of our mutual friends to join in the remembrance or celebration of Valerie's life that week. I was unavailable, just entering my own dark days. 
I know it seems like we're in this dark room and all around us, outside, people are living in the light. People are in and out of happy places all around us. Their eyes are bright and their clothes are clean as they walk through adjoining and luminous hallways that make us so damn jealous or melancholy sometimes. Their hair is in place and it's styled to compliment their skinny faces. Most of all, they must have the answers. After all, they're in the hallway, somehow connecting with the insidiously shallow "Believe & Succeed" posters that you see right through the b.s. on; meanwhile you're filthy, crying, and thinking about death. Make no mistake, many of them are just as shell-shocked and disheveled as you. What you don't realize is that the hallway is only marginally brighter than your room. Instead of the naturally lit hallway you'd always imagined, the one that leads them to their Insta-perfect [insert latest group-think consumer trend product here], it's more like a tunnel and there is a light, but it's at the very end of it. They don't know what's outside the tunnel, so they don't know which direction to turn either. And the rooms that line the tunnel aren't full of puppies and periwinkles. They're just more dark and scary places people are trying to get out of. They don't want to hear your cursing because they're just trying to keep their heads up, too, and every time they think they're closer to the door, you start to blubbering and 'effing the world which sends them back to focusing on how they can't gain their footing—and why does it stink so bad in here? And the one yelling to you from outside the door to follow their voice, making all this sound simple — is just suddenly distraught because they realize they don't know how they got out of the room, but they want to offer you something. 
You're Not Going Insane
So don't beat yourself up over this. You're doing the best you can. Nobody knows what they're doing and nobody has bandwidth for more burden. You're not going insane. You shouldn't be farther along than you are and maybe expecting anything but a long, dirty, mostly lonely journey is driving you more insane. Yes, your optimism is working against you just like your favorite influencer and prosperity sermon. It's putting a greater burden on you than the one you already have. This is also why you shouldn't hold this against the people you thought would be there when you're done. Are some of them flaky—yes, definitely. Is it weird that you went through something catastrophic and several people who you've shared very real experiences with never even made an attempt to check-in? Yes, that's painful. But give credit, several of them probably helped you along in ways you didn't really know or understand. They might've seen your brother at Wal-Mart one Tuesday night and told him a funny story about you he'd never heard. It reminded him to call you and gave him a push through some of his compassion fatigue. Then several of these people you expected to be around are probably in their own moments of despair — and yes, a few of them are just worth forgetting about all together. Honestly, you could've died and they wouldn't have even known. I'm not saying that so you feel bad, I'm saying that so you just quit thinking about any obligation you might think you have to call them up and say, "Hey, long time, no talk. How are you? Oh we're doing fine—you know I had cancer, right? Well, still have cancer (if you're me). Let me tell you about it, since you haven't bothered to check in for four years even though you cried on my shoulder about your own shit a month previous to my diagnosis…" The burden to reclaim that relationship is a burden you don't need right now. You have to start laying some of these things down, or you're not going to make it. 
Of course you have fair-weather friends. I do too. That's not what is shocking. What is surprising is who turns out to be that isn't who you suspected. It's painful to realize how superficial some relationships are, but that's just part of it. You've been someone's fair-weather friend, too. You let people down, too. So do I. Sometimes it's justified. Sometimes I'm on my back in the dark climbing out of a place of despair. But sometimes I'm just too selfish to check-in. I'm too stressed out about the failing fence in my backyard or too obsessed with making the perfect pizza. Deep, I know. It's cringey to think about how I've disregarded the tragedies of the people in my life. It's not like I never think about the people I've let down — I think about it with immense regret. Then I promise myself I'll do better. It can be so upsetting when someone we love is going through something. We feel like we have to do something extraordinary to really carry it with them — so then we end up doing nothing. We overcommit to something unsustainable because everything on a smaller scale seems menial. Inevitably, we look up a month later and we still haven't done anything, so now we feel a little shameful because why didn't we just do something, anything?! Then we think it's weird now —what if they feel better and are recovering, would we just be making them dwell on something they're over? This is why people just fall out of the support system. Someone will move heaven and earth on day 1, but by day 1200, when all you need is just a tiny glimmer to turn your thoughts from the concrete pillar, they're long gone. This is kind of day 1 support is so necessary and appreciated, but it lulled me into thinking that I was running in a sprint. Alas, it is a marathon and when it comes down to it, you're the only one who can finish it. 
I know you don't want to hear it, especially if you're in the throws of a great trial — but you're on your own. It's not because your people don't love you or because they've forgotten, it's because they're probably trudging through something themselves—and just like you, they'll try hold it all together and seem perfectly fine until they just can't any longer. Sometimes by then it's too late. You know it only takes a few seconds for oxygen levels to drop to dangerous levels in a flight emergency situation? Apparently the warning signs are subtle. First you get lightheaded, then confused, then you loose coordination, get tunnel vision, and have impaired judgment. Faces don't look like faces anymore. After six minutes you can have permanent brain damage. For the split second that it takes for you to put your mask on first everyone is definitely on their own, but that's just the first step of survival. You really need your mask on first so you can help more people in a way that isn't some great burden. So you can stay clear-headed and coordinated. So you can see what's in store for you you when you finally get back to real life on the ground.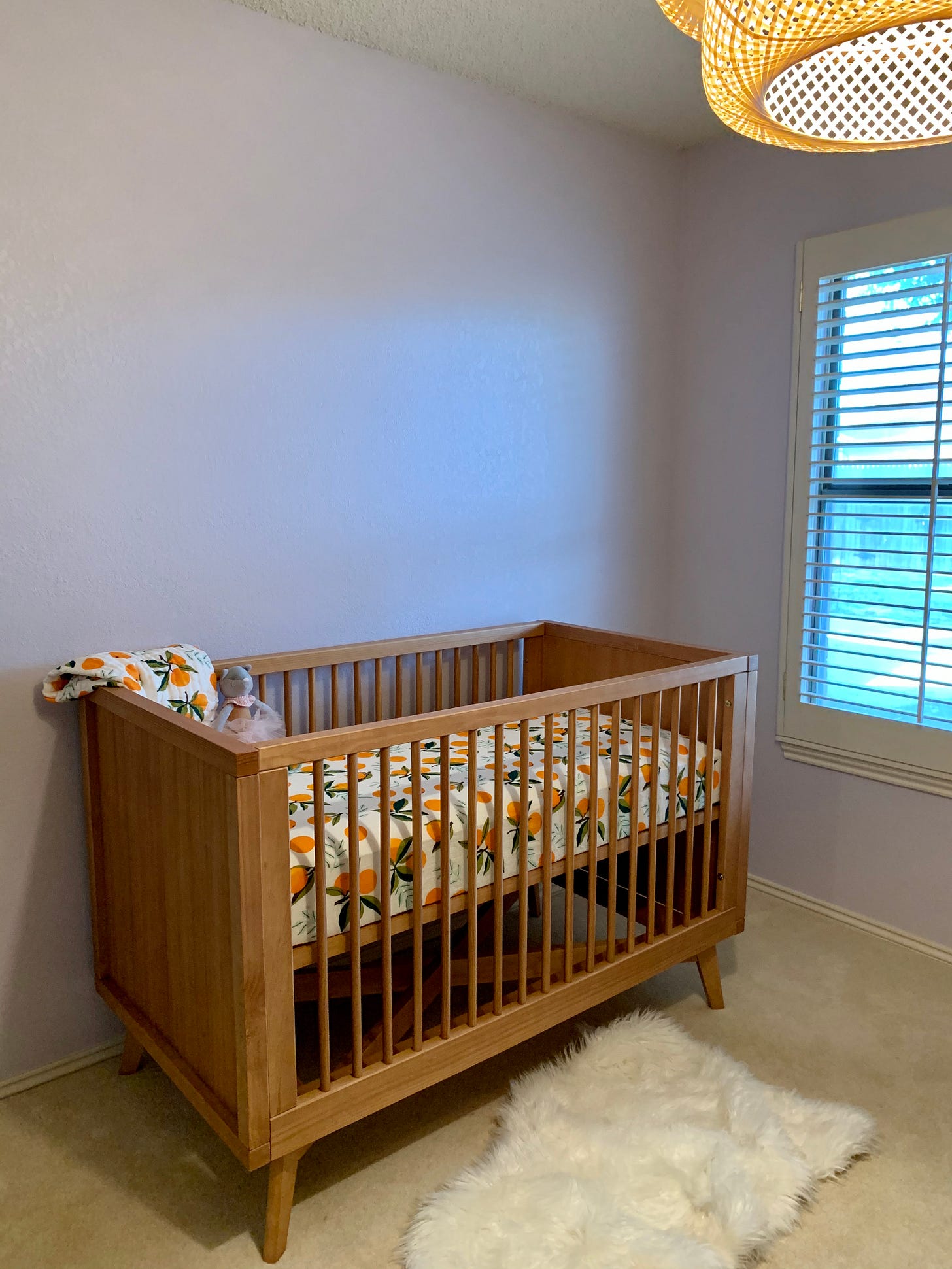 This is our daughter's crib. She's due exactly 4 years after my diagnosis, March 30th 2020.